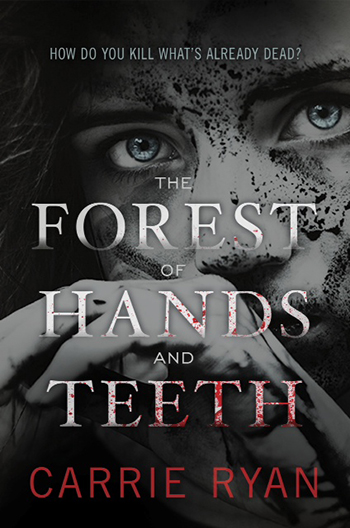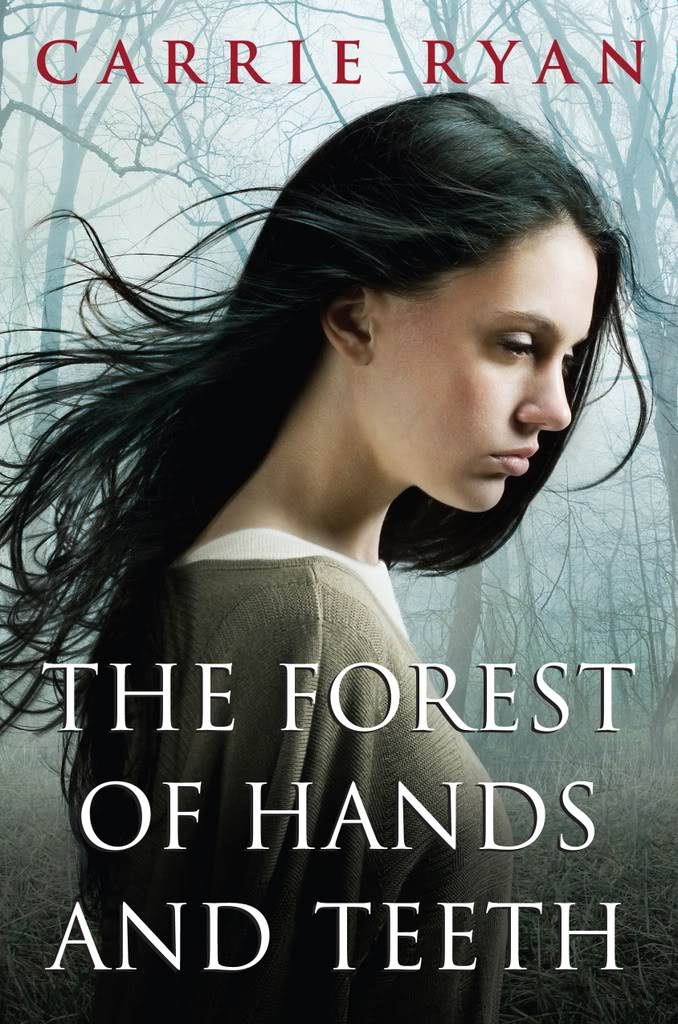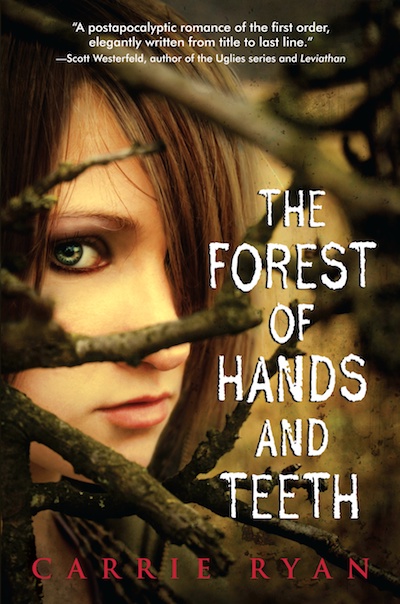 The Forest of Hands and Teeth
In Mary's world there are simple truths.
The Sisterhood always knows best.
The Guardians will protect and serve.
The Unconsecrated will never relent.
And you must always mind the fence that surrounds the village; the fence that protects the village from the Forest of Hands and Teeth.
But, slowly, Mary's truths are failing her. She's learning things she never wanted to know about the Sisterhood and its secrets, and the Guardians and their power, and about the Unconsecrated and their relentlessness. When the fence is breached and her world is thrown into chaos, she must choose between her village and her future—between the one she loves and the one who loves her. And she must face the truth about the Forest of Hands and Teeth. Could there be life outside a world surrounded in so much death?
WATCH THE TRAILER
New York Times Best Seller
Junior Library Guild selection
ALA Best Books for Young Adults
YALSA Popular Paperbacks for Young Adults
2010 New York Public Library Stuff for the Teen Age
Borders Original Voices finalist
#4 on the IndieBound Kids' Indie Next List for Spring 2009
Chicago Public Library Best of the Best
Denver Public Library Best Teen Books of 2009
Texas Library Association TAYSHAS Reading list
North Carolina School Library Media Association Young Adult Book Award Nominee
Volunteer State Book Award Nominee
Evergreen Young Adult Book Award Nominee
Arkansas Teen Book Award Nominee
Iowa High School Book Award Nominee
Georgia Peach Book Award Finalist
REVIEWS
"A remarkable book."
—Charlaine Harris
"…elegantly written from title to last line."
—Scott Westerfeld
"Mary's observant, careful narration pulls readers into a bleak but gripping story of survival and the endless capacity of humanity to persevere…Fresh and riveting."
—Publishers Weekly, Starred Review
"[T]he suspense that Ryan has created from the very first page on entices and tempts readers so that putting the book down is not an option."
—School Library Journal, Starred Review
"The Forest of Hands and Teeth is original, gripping and rich in metaphor. In the cluttered zombie fiction market, it stands out like a living creature among reanimated corpses."
—The Financial Times
"…reminiscent of the paragon of the genre, George Romero's 1968 film Night of the Living Dead…Ryan's vision is bleak but not overly gory; her entry in the zombie canon stands out for how well she integrates romance with flesh-eating."
—Booklist
"The Forest of Hands and Teeth starts strong and never lets up…. Ryan's choice to place her novel in the wilderness is inspired… [T]his novel delivers a thrilling new take on an apocalyptic trope that is now in danger of becoming complete farcical."
—San Francisco Chronicle
"Carrie Ryan's astonishing debut novel is one of the best works of speculative fiction published in recent years."
—The Australian
"…a tale of teen angst in a post-apocalyptic world."
—USA Today
"The Forest of Hands and Teeth is original, gripping and rich in metaphor. In the cluttered zombie fiction market, it stands out like a living creature among reanimated corpses."
—The Financial Times
"Compelling enough to suggest that zombies may be the new vampires."
—The Times
"Love, conflict, terror, life and death are all powerful elements within this well-developed, riveting sci-fi/horror story….Vane Millon's narration is flawless as the voice of Mary. Pacing is excellent and the switch between characters is seamless, with each individual given a distinct voice. Listeners will be kept on the edge of their seats right up to the ending which leaves plenty of room for a possible sequel."
—School Library Journal (starred review of the audiobook)
"a pretty freakin' amazing, empowering and absolutely thrilling young-adult post-apocalyptic zombie love story. That never once uses the word 'zombie.'"
—MTV News
"The story is a more literary Twilight meets M. Night Shymalan's The Village meets Dawn of the Dead. Although the book is technically for young adults, there's all this amazing subtext about the state of society and organized religion that really captured my imagination. Even though her zombies aren't Prada-wearing, cocktail-swilling smart-mouths like Henry's, I found the story no less riveting."
—Jen Lancaster, NYT Bestselling author of Bitter is the New Black and My Fair Lazy
"Mary is a fully-formed character with strengths and weaknesses, and she inhabits a dark, complex world where good and evil, right and wrong are not always clearly distinguishable. The book is all the better for it."
—New Zealand Herald
"Carrie Ryan digs up fresh approach to the zombie story…"
—Courier Mail
"The Forest of Hands and Teeth will give you a sleepless night—either from staying up to finish the book or lying awake listening for a scratch at the door."
—The Cleveland Plain Dealer
"…[a] gratifyingly creepy debut."
—Bulletin of the Center for Children's Books (recommended)
"Intelligent, dark and bewitching, The Forest of Hands and Teeth transitions effortlessly between horror and beauty. Mary's world is one that readers will not soon forget."
—Cassandra Clare, author of the Mortal Instruments trilogy
"Opening The Forest of Hands and Teeth is like cracking Pandora's box; a blur of darkness and a precious bit of hope pour out. This is a beautifully crafted, page-turning, powerful novel. I thoroughly enjoyed it!"
—Melissa Marr, bestselling author of Wicked Lovely and Ink Exchange
"Dark and sexy and scary. Only one of the Unconsecrated could put this book down."
—Justine Larbalestier, author of How to Ditch Your Fairy
"a poignant read… with broad crossover appeal"
—SFX Magazine
"What makes this captivating, apart from the beauty of the prose, its wonderfully measured pace and neat plot twists, is the tension between Mary's dreams and the ever-present knowledge of the evil surrounding the village. For once, the hype surrounding a novel is not exaggerated. The Forest of Hands and Teeth is unputdownable."
—The Guardian
"Ryan writes with an infectious style that draws the reader in, buoying them with momentum at the right moments before delivering sequences of tense action. It's a very effective style and one that will surely resonate with fans of similar novels. A worthy and highly recommended read."
—Sci-Fi Now
"Mary is a poweful, sympathetic heroine with plenty of depth and complexity, which will draw readers into her struggle for freedom."
—Waterstones Books Quarterly (Damian Kelleher)
"The narrative sets a cheerless scene and the careful and often compassionate crafting of the horrors of the living dead add to the horror of the situation which Mary finds herself in. However, one of the great strengths of the book is its ability to make clear the resilience and determination of the human spirit, not only to survive but to search for those dreams which make existence whole. The Forest of Hands and Teeth is an assured debut."
—Books for Keeps
"The Forest of Hands and Teeth truly is so much better than Twilight on numerous levels. Ryan has taken a familiar horror theme—the apocalyptic zombie tale—and refreshed it by setting Mary's story several generations beyond the fall of civilisation, with an intriguing and exciting plot that never quite takes the expected path. The book is well written, the language concise and easy to read. The characters are as realistically flawed as any teen you may meet, and never fall to stereotyping."
—HorrorScope
"Every once in a while, I come across a book that completely sucks me in from the very first page. The Forest of Hands and Teeth is an astonishing debut, skillfully written by Carrie Ryan, poignantly narrated by Mary, powerfully unforgettable, and better than advertised. The Forest of Hands and Teeth is one of the best debuts of the year."
—Fantasy Book Critic
"The Forest of Hands and Teeth is diverting, its mixing of romance and zom-conventions oddly engaging. Expect sequels."
—Death Ray
"a lyrical and elegant novel, written in the bleak, depressingly beautiful style of a Children of Men or The Road. And while it's aimed at high school ages, it has enough complexity and subtlety for this nearly 30-year-old reviewer."
—Greensboro News & Record
"This book is absolutely addictive."
—College Candy
"This inventive horror story combines mystery, romance, and suspense as it records Mary's quest to search beyond the barrier for alternatives to the life she has always known."
—Horn Book