The adventures on the magical waters of the Pirate Stream continue in City of Thirst, the second book in the Map to Everywhere series!The book hits shelves on October 13 and is once again filled with the incredible art of Todd Harris (he's genius!). Here's a bit more info: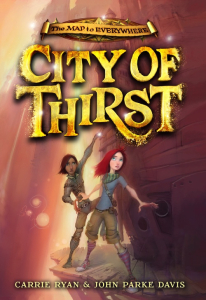 New York Times bestselling author Carrie Ryan and John Parke Davis transport readers back to the boundless world of the Pirate Stream in this engaging and exhilarating sequel to the highly acclaimed The Map to Everywhere that is equal parts adventure, humor, and heart!

When the magical waters of the Pirate Stream begin flooding Marrill's world, the only way to stop the destruction is to return to the Stream and find the source of the mysterious Iron Tide. Reunited with her best friend Fin–who has been forgotten all over again–Marrill, her disbelieving babysitter, and the Enterprising Kraken crew must make the treacherous trek to the towering, sliding, impossible world of Monerva and uncover the secrets of its long-lost wish machine. Only there can Fin wish to finally be remembered. Only there can Marrill wish to save her world and all the people she loves. But to get everything they've ever wanted, Marrill and Fin may have to give up on the most important thing they already have: each other.
Pre-order it now: Amazon | Barnes & Noble | Books a Million | Kobo | Google Play | iBooks | IndieBound
And of course don't forget that you can pre-order a personalized, signed copy through our local indie, Park Road Books (if you pre-order through them, you'll automatically receive any pre-order or swag we make for the book).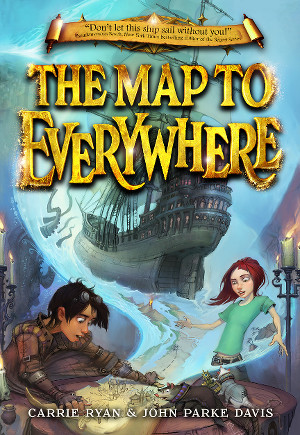 We're also excited that this means the paperback for
The Map to Everywhere
hits shelves in less than a month — September 8th! Our publisher has made a few tweaks to the cover and we're totally in love with it! Check out that new font treatment!
Right now JP and I are hard at work on the third book in the series (it's a four book series in all) and we're having the best time! This is a world JP dreamed up in 2006 and we've spent years talking about it and day-dreaming — it's amazing that we finally get to sit down and write the stories that have been brewing in our imaginations all this time!
In other news…
I just updated my events schedule for the fall. I'll be headed all across the US — East, West, North and South! So if you live in Raleigh, Brevard, Austin, Chicago, Portland, Charleston, or the Twin Cities, check out my schedule here and come say hi!
I've also been hard at work on my next YA. Unfortunately I don't have a release date and can't tell you anything about it – lol. But it exists! I'm once again working with my fabulous editor, Julie Strauss-Gabel at Penguin Teen and it's a story I've been wanting to write for a very long time. So far it's been a blast to write!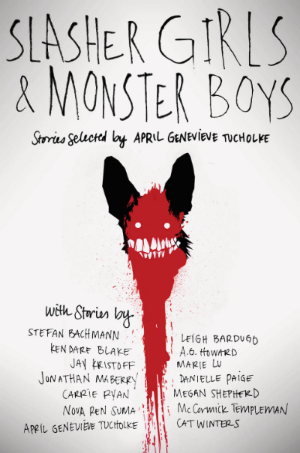 Finally, I have a new short story out this week! It's in the Slasher Girls and Monster Boys anthology edited by April Genevieve Tucholke and includes a ton of amazing authors! My story is dark and creepy and involves a man-sized rabbit. I think it might be one of my favorite stories I've written just because when I came up with the idea I remember thinking, "Am I really going to write that?" And the answer was a resounding yes 🙂 I hope y'all like it (and are just as creeped out reading it as I was writing it)!