So I wrote this blog post but it got really long so decided to break it into two. Here's part one, which is really the crux of it: The Map to Everywhere has received three starred reviews!! I'm completely awed and excited and overwhelmed and excited again!! Here's what they had to say:
"Vividly cast…. Multifaceted characters, high stakes, imaginative magic, and hints of hidden twists and complexities to come."—Kirkus Reviews, starred review
"Wholly original…. This is an ambitious undertaking, and strong readers who enjoy adventure fiction and fantasy will inhale the first book in what has the potential to be an extraordinary series."—School Library Journal, starred review
"The unique details, expert plotting, charming characters, and comic interludes combine in a tantalizing read that's made even more appealing by the promise that the story will continue in future volumes." —Booklist, starred review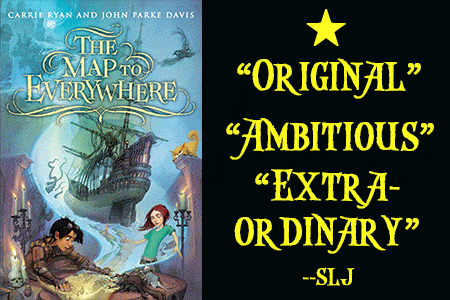 What makes this even more special and wonderful has been to share this entire experience with my co-author, JP. Apparently, I made a good choice to write with him since he is currently three for three on starred reviews!!